Logistics and transportation are critical for the economy. The logistics industry worldwide was worth over 8.4 trillion euros in 2021 and is expected to exceed 13.7 billion euros by 2027. To remain competitive and provide the best service, companies are interested in optimizing and controlling all processes of the supply chain.
Earlier big data were sufficiently large and complex that they required novel analytics to extract, integrate, and interpret meaningful information. With data fusion now it is easy to combine different types of data to keep your finger on the pulse of your own business.

The Problems of the Logistics Industry
Every year, the logistics industry moves forward. But there are still a number of unsolved problems, which require a new approach and modern technological solutions. This is what makes a big gap between logistics companies and allows reach a new level only those who managed to cross them.
Rising fuel costs
Ever-increasing fuel costs direct influence delivery costs and is a threat to business profitability. That is why companies want to find the most fuel-efficient routes. Shorter routes and well-informed drivers can make a big difference in overall fuel costs.
Lack of effective planning
The lack of clear organization and planning will only bring you trouble and expense. Delivery delays, untimely unloading, possible obstacles on the road and incorrect calculation of demand can become a big cyst that will only spread.Lack of effective plannin
Damage, spoilage and loss of goods
Goods can be damaged, spoilage or lost in transit is a very common logistical issue that impacts the customer's relationship. There is always the risk of them getting damaged during transit, so delivery companies try to control this process, especially when it comes to goods that require special storage conditions (temperature, humidity, etc.).
Inaccurate demand forecasting
Inaccurate demand forecasts or their absence at all leads to incorrect inventory planning. It is leading to an undersupply or oversupply of inventory, both of which can have negative consequences like missed opportunities and lost profits. Unreasonable decisions will entail possible additional costs.
Unclear tracking
Timely and accurate deliveries are key in the logistics industry. And one of the most frustrating things is not knowing where your shipment is or when it will arrive. Without clear tracking of the status of shipments is a quick way to get confused. Therefore, it is necessary for both you and your client to know exactly where the parcel is now so that it does not lead to further problems.
Processes Optimization
What can offer data analysis and fusion for logistics? The answer is obvious: problems solving by effective process optimization.

Сargo Сontrol
Many products require special storage and transportation conditions for the customer to receive them of proper quality. The main indicators are temperatures and humidity levels. Using data generated from sensors, companies can monitor the conditions that any given shipment encounters during its journey.

Route Planning
Due to data fusion now we can implement ways to optimize routes. GPS data, condition, and weather data combine to identify the best route for each type of vehicle at any given time. This is also various factors, including traffic, travel time, and fuel efficiency that influence on. Additionally, the accuracy of predictions increases all the time. It is because the previous data and all the new ones that are created are the basis for future predictions.

Supply and Demand Forecasting
A large amount of data allows for more accurate supply and demand forecasts. It allows companies to track and adapt to shifts in near real-time, and generate more confirmed decisions for inventory and shipment planning. As a result, they can reduce waste and improve delivery times. It also has a positive effect on inventory management. If a product is out of stock, there's a high likelihood that shoppers will shift their purchase behavior. Overstocking also causes problems – money is wasted through unnecessary storage costs, personnel costs, and loss of product due to expiration. Companies can use data to calculate logistics lead times for each SKU and determine the number of days it typically takes for products to reach the warehouse after submitting a purchase order. Combining these lead times with supply and demand forecasting will lead to the most optimized option without extra costs.
Warehouse Management
Data analytics can track the movement and location of each product, and its expiration date and combine this information with sales data to identify the best location for each SKU in the warehouse. It gives easy finding and optimization due to less time spent. Also, sorting deliveries in the warehouse according to their storage period helps to avoid the delivery of the wrong product to the wrong place or the wrong quantity. And, of course, loading delays while workers are looking for the right product – this system in general makes the process of storage and loading easier.

Shipment tracking
Customers want to know when they will receive their orders and if a package is expected to arrive later than anticipated. You can offer real or near-real-time status updates, and that will affect customer satisfaction.
All processes that are not optimized and not organized into one well-established chain drain your business.
Examples
Data analytics has become a crucial tool for organizations to help them make informed decisions. In that way, they gain a competitive edge. A Deloitte survey found that:
49% of respondents believed analytics helps them make better decisions
16% said it supports critical strategic initiatives
10% indicated it helps them build stronger relationships with clients and business partners.
UPS (United Parcel Service)
UPS utilizes data analysis and fusion to optimize its delivery network, track packages in real-time, and enhance route planning for its drivers. They collect and analyze data from various sources, such as GPS devices and sensors, to improve their logistics operations.
DHL
DHL, a global logistics company, employs data analysis and fusion to optimize supply chain operations, monitor shipments, and improve delivery times. They use data from IoT devices, telematics, and other sources to provide real-time visibility into their logistics processes.
FedEx
UPS utilizes data analysis and fusion to optimize its delivery network, track packages in real-time, and enhance route planning for its drivers. They collect and analyze data from various sources, such as GPS devices and sensors, to improve their logistics operations.
Maersk Line
Maersk, one of the world's largest container shipping companies, uses data analysis and fusion to optimize vessel routes, container allocation, and port operations. They rely on data to improve cargo visibility and ensure timely and efficient shipping.
Ryder
Ryder, a logistics and transportation company, utilizes data analysis and fusion to manage fleets, optimize transportation routes, and enhance supply chain visibility. They offer solutions ranging from fleet management to dedicated transportation services.
Kuehne+Nagel
This global logistics company employs data analysis to optimize its supply chain solutions, including transportation, warehousing, and distribution. They focus on using data-driven insights to enhance operational efficiency.
Schneider National
Schneider National, a transportation and logistics provider, uses data analysis to optimize its trucking operations, monitor driver performance, and improve overall efficiency in its supply chain services.
Amazium Case: Navigating the Future – AI and ML in the Maritime Industry
About Client
The company, to which Amazinum provided its data scientists, is engaged in the optimization of processes in shipping. It is the developer of certain pro-game solutions, services, and platforms that have changed the policy in the maritime market.
Business Context
Data Scientists joined our client's team to implement Data Science and Data Analytics solutions. Our specialists structured the data on the movement of ships, and information about berths and ports, as this was their main task. They were to develop a solution that would simplify and automate the work of users in the shipping industry.
Among the tasks that were set before our data, scientists were:
Predict the price of unloading and loading goods onto the ship
Determine the reliability of ports
Sorting varieties by similarity
Predict patterns and popularity of ports.
Predict the price of unloading and loading goods onto the ship
The Amazinum Data Scientists team was already working with ready-made data provided by the client. The task set before us by the customer was to predict unloading or loading prices based on certain metrics. To fulfill the tasks, our specialists took data on port services for the previous time and trained models based on them. Among the selected models were the Prophet model, which predicts time data based on seasonality, and the Darts library for time-series forecasting and anomaly detection using state-of-the-art models.
Among the metrics that Amazinum specialists took into account were: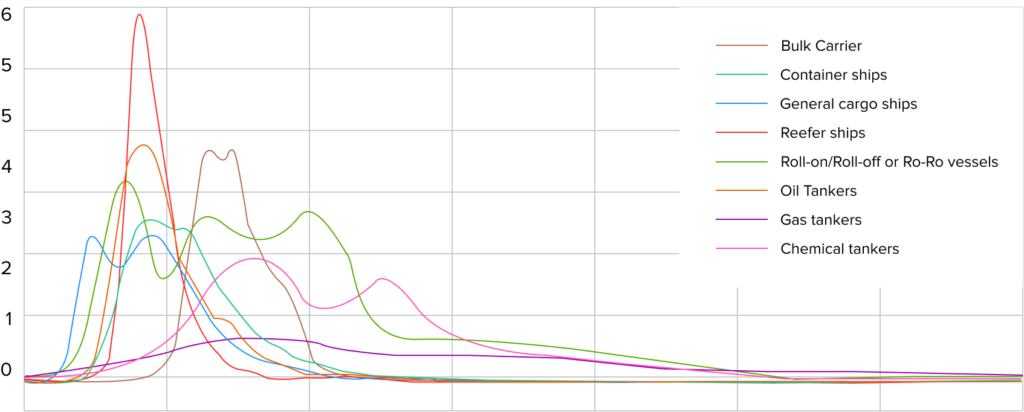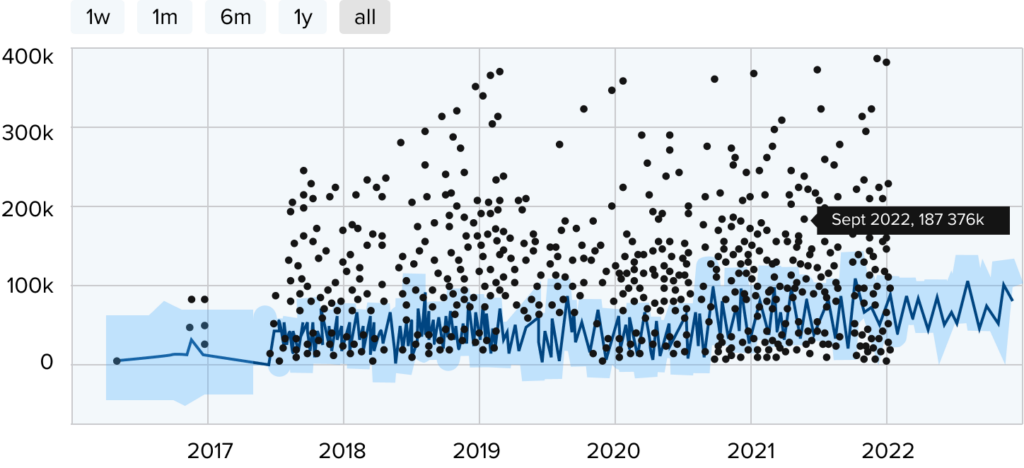 The model was trained and provided results that were verified by our Data Scientists. Specialists provided ready-made results to the client in the form of a schedule.
Determining the reliability of ports
The next task that the client set before us was to determine the reliability of the ports. For this, Amazinum's Data Scientists collected statistics on price fluctuations, such as mean value, standard deviation and variance.
Ports were ranked by these values and reliability was determined by using metrics such as deviations per port and standard deviation for each country, continent, etc. Based on them, the risk level of the ports was determined.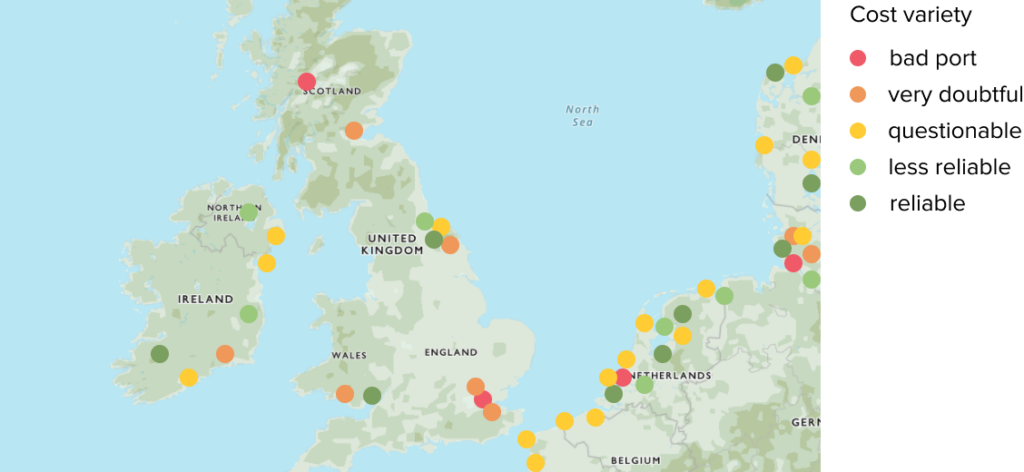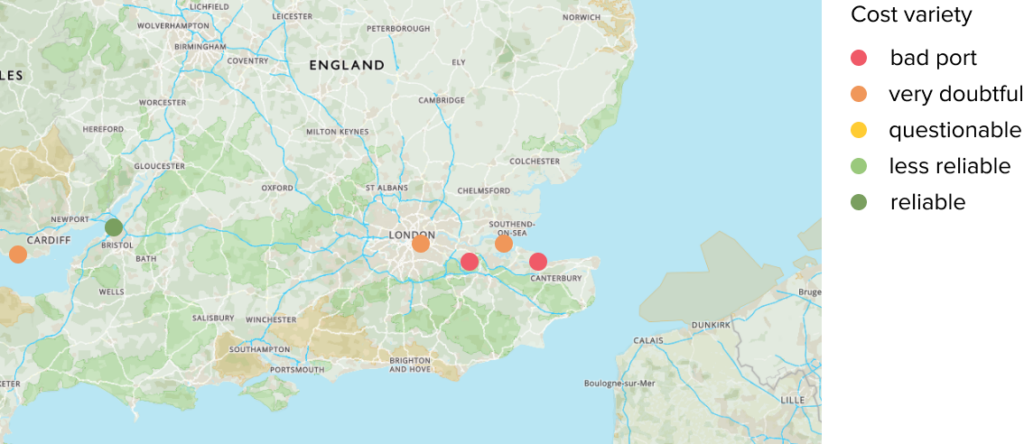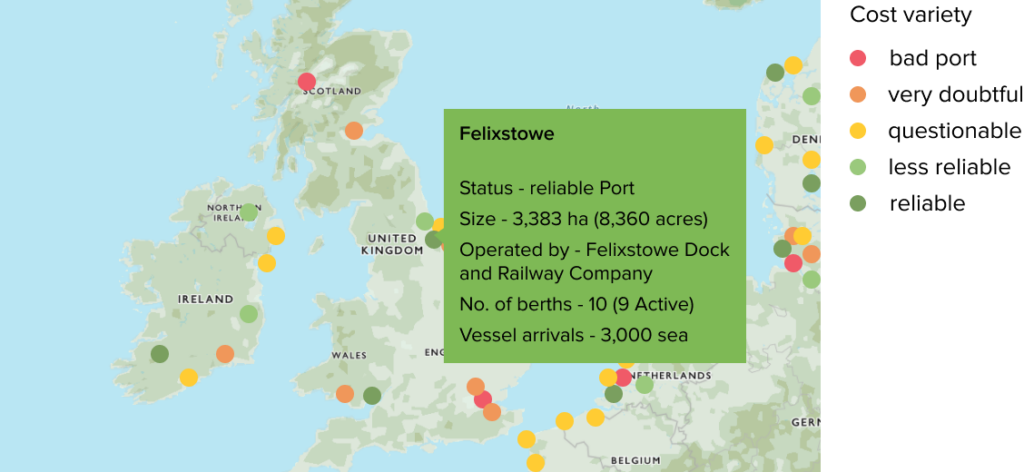 Forecasting trends
Another of the tasks that the client set for our data scientists was to predict trends related to ports. For this, Amazinum specialists used the Prophet model, which forecasted time series data based on an additive model, where non-linear trends are consistent with annual, weekly, and daily seasonality, as well as the impact of holidays. In this way, our specialists determined whether there is any regularity or trend for ports in relation to the time metric.
Conclusion
There is a constant evolution occurring in the logistics sector, whether in the implementation of new technologies or the practice of new strategies. Data analysis and fusion in logistics allow companies to solve existing problems and implement appropriate measures for continuous improvement. The collection of data and its conclusions are a solid basis for decision-making to ultimately achieve maximum logistics quality.
Organizations that use data to drive business strategies feel more confident, proactive, and financially savvy. This gives them confidence at every step and a competitive advantage in today's ever-changing business environment.
Contact us to be ahead of your competitors and occupy a leading position in the market. Amazinum will implement new developments in your business that allow you to overcome existing problems and give you confidence in each step toward success.