AI has already made many steps for the beauty industry, thereby heating up customers' appetites and their expectations. Recent news about Maybelline's AI-powered 'makeup' filters for Microsoft Teams has once again raised the hot topic of the application of AI in the beauty industry. Therefore, today we will consider how AI is changing this industry and what is currently happening in this field.
AI-Beauty-Universe: L'Oréal's Vision
L'Oréal is a global beauty company that has existed for more than 110 years. It owns 36 brands and continues to acquire some of the world's leading beauty brands. Maybelline New York, Garnier, NYX, CeraVe, and Redken are some of L'Oréal's top acquisitions. In general, it has focused on highly desirable brands designed to complement and increase the scope of its original product offerings. It conquered the largest part of the beauty market while investing in new developments and technologies. What do they offer now?
Maybelline: 12 Virtual Makeup Looks for Teams
Powered by Modiface AI and developed in collaboration with the Geena Davis Institute, Maybelline aims to provide users with a range of looks to best suit their meetings. "Virtual makeup bag" is equipped with all the must-have digital makeup products to complement their own natural look without adding effort. Each look has a product breakdown so users can recreate it in real life.
"At Microsoft, empowering people through technology is at the core of what we do. The new Maybelline Beauty App in Microsoft Teams is a great example of how, together with our partners, we are giving people more ways to express themselves in hybrid work environments using the power of AI." – Nicole Herskowitz, Vice President of Microsoft Teams.
Makeup Virtual Try-on
It is also worth noting that Maybelline has a virtual try-on function for its products. Virtual try-on technology enables customers to try on products using their camera-equipped devices and work with the help of augmented and virtual reality, computer vision and artificial intelligence to provide an immersive user experience. It helps to visualize the item in which they are interested, interacting and confirming the fit before making a purchase.
This technology allows customers to try all Maybelline Makeup products without leaving home. It is very convenient when you do not have time to go to a physical store or it is very far from you. Or in the case when you do not want to leave the house once again (for example, how it was during the COVID-19 pandemic).
How it works? Choose a product you want to try, just launch your live camera or upload a picture and you will see the result. You can also compare the before/after makeup application and the difference between different shades, and share your selfie to consult with someone, about whether it suits you. Knowing the exact product and its shade, you can order it in an online store convenient for you with delivery to your door.
NYX: Professionals on Your Phone
NYX professional virtual try-on offers the customer the feeling yourself the most expert and advanced looks by professionals. In addition to creating your own makeup with all NYX products, you can try ready-made looks from makeup artists. You can appreciate your look without spending hours in the studio. In case you like some of them you can check what products you used and buy them online.
Remembering that this company produces products for creating bright and permanent makeup, sometimes it is very difficult for consumers to predict the result of a particular combination. Therefore, this tool combines two possibilities – creating your own makeup and testing ready-made makeup from a specialist. This gives buyers confidence in choosing products and encourages them to order. It is also a very good example of an individual approach to the client in the virtual space since it is impossible to do a complete make-up in a store.
The virtual makeup try-on is powered by augmented reality technology and developed by Modiface. The face tracker algorithm can detect your facial features and apply virtual makeup on the right placements. It is able to produce more than:
16 million colors,
68 eyeliner styles,
44 eyeshadow placements.
This allows you to create looks precise, realistic and professional right on your phone.
Garnier: Hair Colour Services
To help customers decide on what will best suit their hair needs Garnier created a virtual try-on service to let them explore the hair color possibilities and benefit from Garnier's expertise. The virtual try-on technology available on the website allows you to browse through all Garnier shades and try them before you take the plunge into real life.
This service employs also Modiface. It detects your hair and virtually applies hair color. By phone or webcam, you can instant live preview of each new shade that moves with you realistically, and you can then compare before/after and share your selfie with a new virtual look. If you are satisfied with the result, you can buy your chosen product online with no worries about how it will look on you.
If customers need a little more help choosing your shade or recommendations from hair color experts, they can get salon experience, and personalized recommendations from hair color professionals based on asked needs.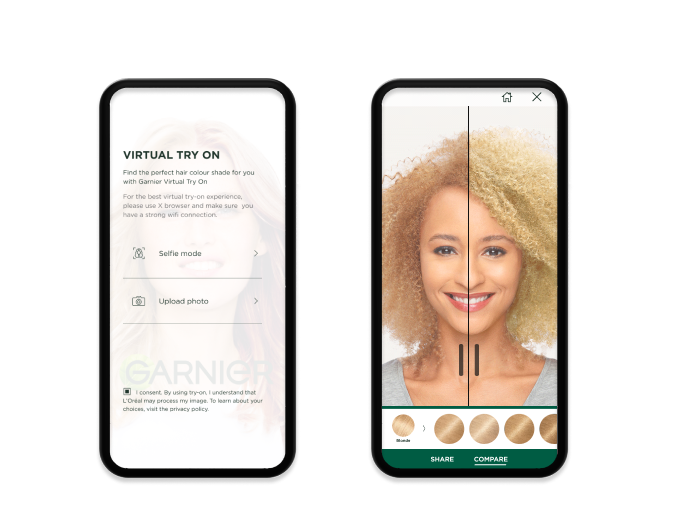 L'Oréal Paris: Skin Genius
Skin Genius is a digital service that finds personal skin routines. It uses AI technology and is a breakthrough for the beauty industry. The base is a library of 10,000 real images scored by real dermatologists. The accuracy of this tool is near 97% on 8 clinical parameters and with a wide range of skin types. The artificial intelligence recommends ingredients, products, and routines care for each person that will work. The system immediately suggests brand products that will solve your skin problems and make you feel and look better.
It's all private. Your data is not recorded, and in case you do not want to share this information with someone, you are the only one to see the results.

Vichy: Anti-aging Consult
With augmented reality and artificial intelligence technologies, Vichy Laboratories has developed SKIN CONSULT AI to help understand skin aging. It detects seven major aging signs and decodes skin strength and priorities to provide skincare and affect aging beforehand. Inside algorithms lie 10,000 images and that merge with 15 years of dermatological expertise.
By taking a selfie and indicating your age and skin type, you can get an estimate of your skin and personalized analysis. Then it will recommend a personalized skincare prescription for you from Vichy products.
It is worth noting that this company specializes in the production of care cosmetics and anti-aging cosmetics. The main component of their products is water from thermal springs in the French city of Vichy, which have long been famous for their healing properties.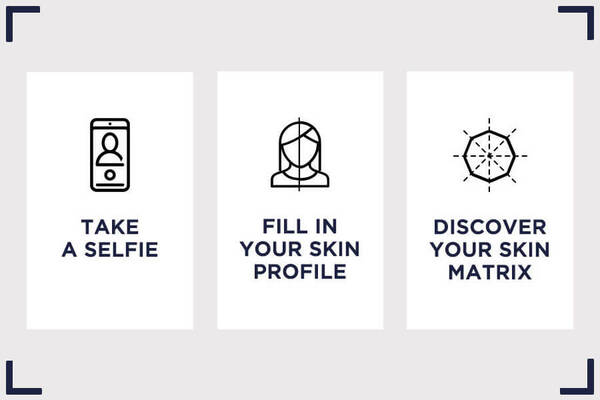 La Roche-Posay: Spotscan+
"Spotscan+ is the only available free public tool, that is both user friendly & accurate to evaluate the severity of acne-prone skin" – Dr.P.Martel – Dermatologist in Nice
Acne is a wide skin concern worldwide, affecting 80% of teenagers and 40% of adults. Based on AI and 6,000 photos of all ethnic skin types and based on a GEA (Global Acne Severity Scale) scoring, it provides the most accurate imagery and analysis to recommend a personalized La Roche–Posay routine to acne sufferers.
The mission of Spotscan is to provide a vital first step in understanding their condition in a simple way.
Conclusion
Obviously, a personalized experience is the way to success. AI for beauty industry helps to find a special key to each customer's heart to satisfy their needs. Technologies do not stand still and in the future beauty companies will offer new services to improve interaction with the client and new innovative technologies that develop the beauty market worldwide.
Contact us to discover your business opportunities today and implement AI technologies for better results.