Artificial intelligence is developing very fast, and more and more influences our everyday lives. The global artificial intelligence market size is expected to reach USD 1,811.75 billion by 2030, expanding at a CAGR of 37.3% from 2023 to 2030.
One of the main reasons for using AI is to make people safer and more productive – especially applies to hazardous industries. Construction safety professionals are optimistic about the ways their jobs will change alongside new technology. It's going to open opportunities for us to focus on root causes, preventive measures, and things that really make a difference.
How AI Can Help Improve Construction Safety
Artificial intelligence offers many ways to improve the construction industry. Below, we will talk about the three most important advantages of its implementation and use.
Generative design
In order to plan and design the construction of a project, we need to take into consideration the architecture, engineering, mechanical, electrical, and plumbing (MEP) plans. The generative design ensures that the different models do not clash. The main merit of machine learning in this form is to identify and mitigate clashes between the various models. When the user sets up requirements in the model, the generative design software creates 3D models optimized for the constraints. It is hard for the human mind to keep track of all the combinations, when there are several possible variants. But generative design does it easily and well, learning from each iteration.
Generative design can automate the creation of different design solutions, which satisfy a variety of goals of the designer. It makes easy initial project process. It can be used as drafts to discuss with stakeholders what they want to see in the final version.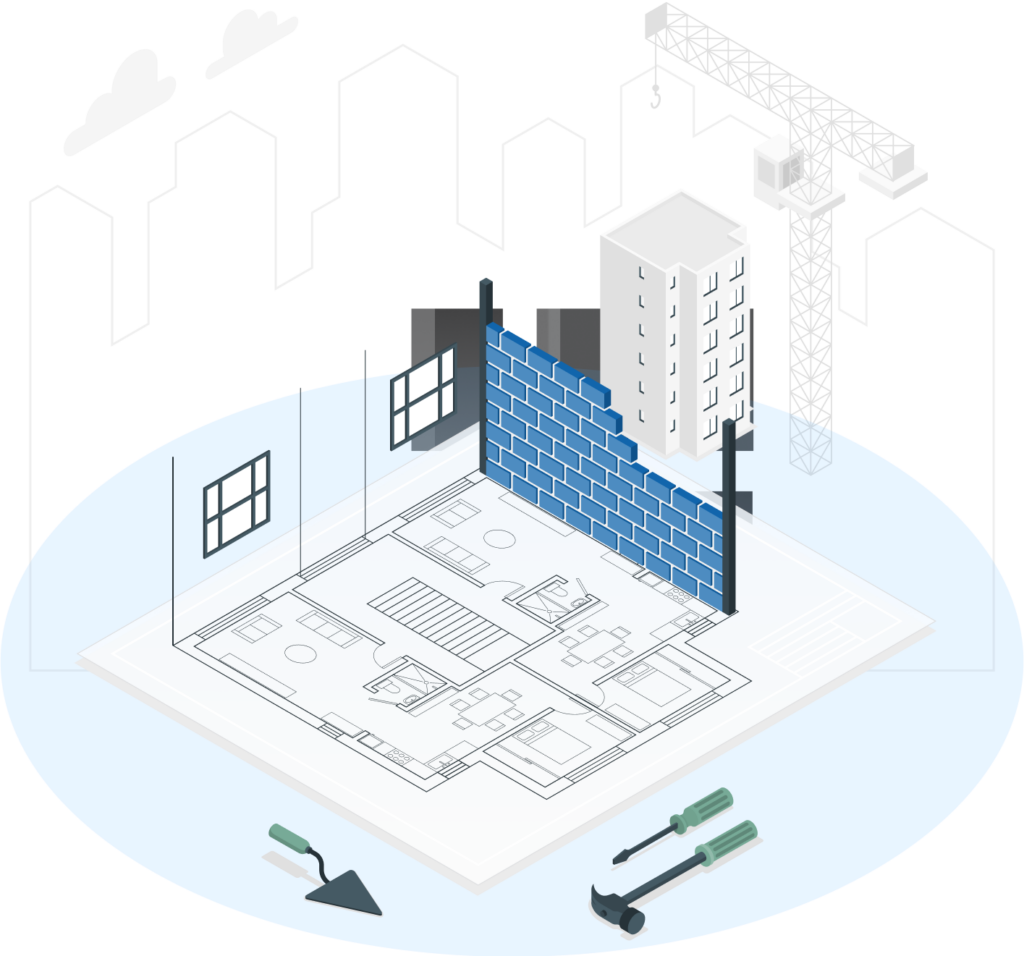 Project planning
AI helps to optimize resource allocation by considering various factors such as project requirements, worker availability, equipment utilization, and material availability. By analyzing past project data and current constraints, AI algorithms can generate optimized schedules and resource plans. It helps to minimize downtime, reduce costs, and improve project timelines. This makes it possible to predict risks at each project stage and make decisions if something does not go according to plan.
AI also can provide real-time monitoring of project progress. AI algorithms analyze all data to optimize resource usage, reduce waste, and overall project efficiency.
Construction Safety
Construction workers are damaged on the job five times more often than other laborers, according to OSHA. AI offers ways to minimize workplace injuries and accordingly prevent mortality.
Firstly, some of the tasks AI can do without human factors. This applies to hazardous work, such as surveying the site after natural disasters to draw up a reconstruction plan. Instead of endangering human life, you can use a drone with AI.
Secondly, AI can analyze images and videos from construction sites in real time. It helps to identify potential hazards such as unsecured scaffolding, improper use of equipment, or blocked emergency exits. This can help proactively prevent accidents by alerting supervisors or workers to address the hazards promptly.
Thirdly, workers do not always wear protective equipment. This is key because most accidents start with injuries. Therefore, it is important to control that all workers have a safety helmet and other protective equipment.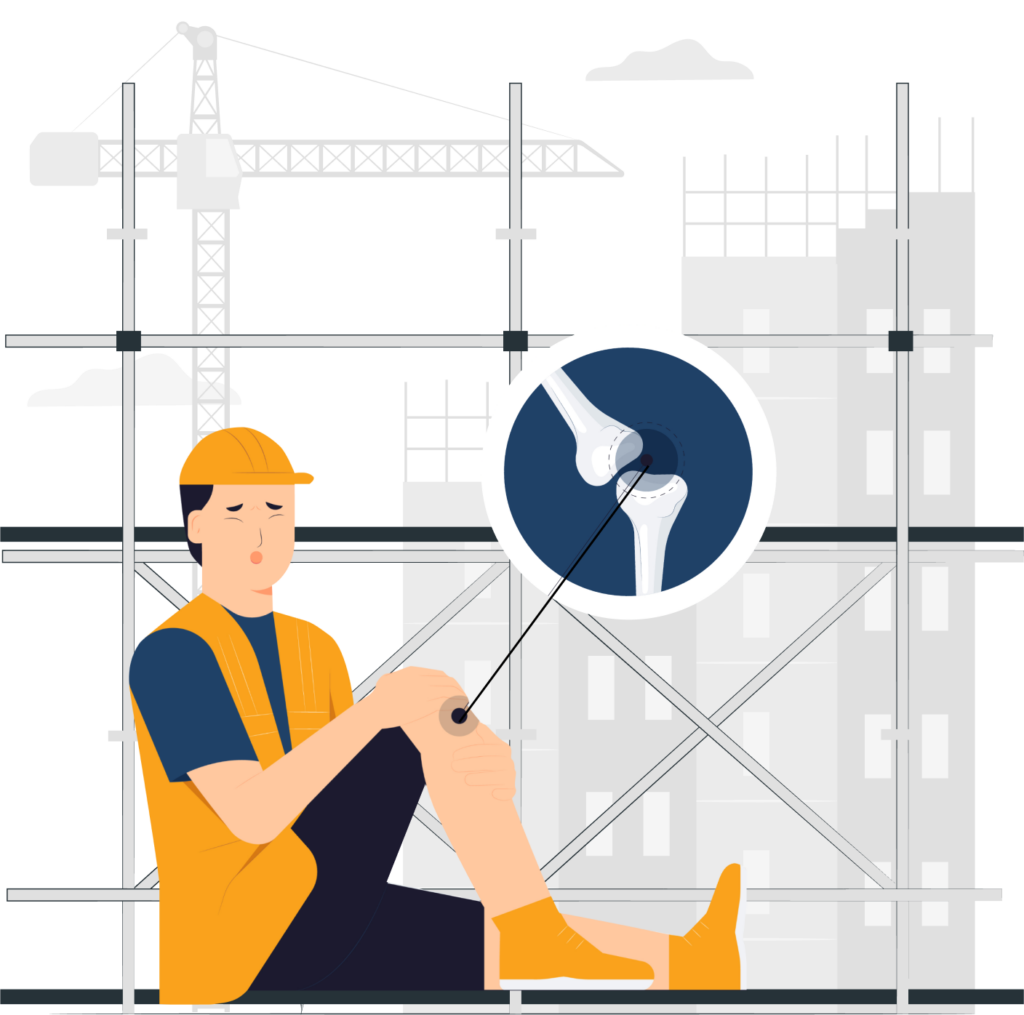 What Technologies are Used in AI-Based Construction Site Monitoring?
AI-based construction site monitoring involves the use of several technologies:
Internet of Things (IoT): IoT devices and sensors can be deployed throughout the construction site. As a result, the data on various parameters, such as temperature, humidity, noise levels, vibration, and equipment status will monitor and analyze.
Wearable Sensors: Wearable sensors, such as smart helmets, vests, or wristbands, are used to track the movements and activities of workers on the construction site. It helps in monitoring safety, productivity, and adherence to protocols.
Unmanned Aerial Vehicles (UAVs): Drones with cameras or sensors are for capturing aerial images and videos of the construction site. These images can be processed using computer vision techniques to monitor progress, identify potential issues, and create 3D models for analysis.
Computer Vision: Computer vision techniques use images and videos from cameras on the construction site for analyzing. It helps to monitor worker activities, track the progress of specific tasks, detect safety violations, and identify potential hazards.
Machine Learning (ML): ML algorithms analyze construction data and identify patterns or anomalies. It gives an opportunity to predict construction delays or identify deviations from planned budgets.
Cloud Computing: Cloud computing platforms are for storing and processing large volumes of data collected from different sources. Cloud-based solutions allow managing real-time access to data, collaboration among stakeholders, and scalability for handling complex computations.
Augmented Reality (AR): AR technology can overlay virtual information on the real-world construction site, allowing stakeholders to visualize design models, compare as-built structures with digital models, and perform quality checks in real-time.
Mobile Applications: Mobile applications allow workers to capture and report data, access construction plans and documentation. Also, it is an advantage to receive real-time updates or notifications. The apps can integrate with AI systems to provide personalized insights and recommendations.
By leveraging these technologies, we can improve all these construction phases for construction owners.
Amazinum Case
Our client is a company that provides remote monitoring services and innovative use of cameras. It covers a wide range of equipment that works with images in various industries, including construction, mining, environmental monitoring, and scientific research.
The Data Scientists of Amazinum joined our client's team to introduce a Computer Vision solution to one of the client's services. The main problems were:
at the beginning of the work, the client had a model that detected only three construction-related classes – worker, hard hat, and vest;
a large number of False positives.
The solutions were to improve and develop algorithms that would help monitor safety on construction sites based on OSHA regulations. Thus, tasks among our data scientists were:
– Improve the accuracy of the existing model;
– Create an algorithm that could connect equipment classes to subjects;
– Increase the number of detected classes in the existing model;
– Create a model for detecting heavy machinery;
– Develop an algorithm for detecting and tracking changes at the construction site.
Our first step was to increase the dataset itself. We achieved this by using two methods. In the first method, we simply added new images. As for another method, our Data Scientists have integrated the technique of image augmentation. This means that we should change the image to look different from its original appearance. For example, adding black and white versions of the image or blurring it, etc. This allowed the model to understand more cases and detect images more correctly.
The next step was to change the architecture of the model. The existing version of the model used the YOLOv3 architecture. Our specialists replaced it with YOLOv5. This object detection model produced better accuracy and was more relevant, complex, and optimized. To deal with false positives, our data scientists decided to add a background image that would not have target classes. In this way, we achieved a result in which the machine did not detect inappropriate subjects as workers.
The next task within the client's project was to create complex classes that could describe worker better as entities. Amazinum data scientists created an algorithm using the NumPy library, which attached classes of equipment to subjects (workers), thus allowing them to perform various operations on them.
Also one of the client`s tasks was to increase the number of detected classes by model. We have added personal equipment classes (goggles, protective masks, protective gloves) and light auxiliary equipment (scissor lift, lifting platforms, ladder) to the model. Based on classes of light assistive equipment, we created an algorithm that could determine whether a worker interacts with this equipment. For example, if workers are at height. Data scientists at Amazinum used NumPy algorithms to achieve the desired results.
In addition, our data specialists created a model of heavy machinery. In this way, the model could distinguish not only workers on the construction site but also machine-type equipment like a static crane, roller, bulldozer, excavator, truck, loader, concrete mixer, etc. Amazinum data scientists also developed an algorithm for detecting and tracking changes in the state of the site structures using a video stream.
As a result
The use of innovative cameras equipped with computer vision algorithms on construction sites has shown a positive result. Machine learning algorithms have made it possible to monitor construction sites and prevent potential hazards on sites. Among the advantages that can be reaped by the end user, using our client's technologies:
– Reduction of construction accidents, such as injuries and deaths;
– Control of the construction site;
– Identification of potential threats and dangers;
– Avoiding carelessness of workers regarding PPE.
Thanks to the implementation of computer vision, companies or entrepreneurs providing services in the field of construction were able to increase the trust of their customers in them and ensure safety at the workplace. All this, in conclusion, helped to attract new customers and increase their income.
Companies That Use ML and AI for Providing Safety on Construction Sites
AI continues its development across various industries to improve efficiencies, it is also transforming how the construction industry approaches job site safety. Over the past couple of years, construction firms have leveraged AI to make the process of identifying and reporting safety risks faster and more streamlined. Nowadays, the construction industry has the capability to harness the power of big data to predict incidents before they occur. In accordance the level of security increases thanks to predictive analytics. Here are some companies that are already actively working on it.
Suffolk
At the moment, the company already has a cloud-based mobile safety-observation app that allows Suffolk to collect data in real-time and promote safe behavior (RiskX). As a result, the company lowered its recordable incidents rate by 28% and its lost-time incident rate by 35%. With such positive results from RiskX, Suffolk was eager to develop new advancements to make safety technology beyond mere observation.
So, the company launched a research project with Boston, Massachusetts-based AI startup Smartvid.io (now Newmetrix), called "Vinnie Predictive Analytics." During development, Vinnie's AI technology looked at each picture and identified potential on-site safety risks. One of them, for example, is workers' lack of proper personal protective equipment (PPE). A base for AI training were recorded safety incidents over the last 10 years. The early testing was successful and showed 20% of all incidents within the sample with an 80% accuracy rate. So, even if just one in four incidents is avoided with predictive analytics technology it will be a very good result. Cost savings could easily enter millions, considering the estimated cost per incident at around $20,000 to $30,000. And, more importantly, job site employees at risk for an incident have the ability to avoid it.
With this model, Suffolk gained the ability to use image recognition to monitor risks.
Pillar Technologies
Pillar Technologies has developed smart sensors for construction sites and a backend system. The system collects data from the sensors and gives real-time alerts and long-term analysis of the risk level for these accidents.
The sensors are a little smaller than a shoebox and are designed to be mounted throughout a construction site – about one per every 2,000 sq. ft. of building space. Pillar system can detect temperature, humidity, dust particulates, pressure, noise vibration, and volatile organic compounds (which arise from an overload of varnish or paint).
The most important thing is giving real-time alerts to site managers – for example rising temperatures or humidity in one part of the site. For example, a construction company receives an alert from the humidity sensor and catches water damage before it spreads to the rest of the building. All sensor data is also collected to create predictive analytics. Thus, the efficiency and accuracy of this system will improve.

Conclusion
AI will play a more significant role in construction in the coming years because data volumes grow and AI engines become more refined.
Predictive models will be crucial in mitigating construction site risks.
AI reduces expensive errors, reduces worksite injuries, and makes building operations more efficient.
The business models in the construction industry will be changed.
Leaders at construction companies should prioritize investment based on areas where AI can impact their company's unique needs most. The Amazinum team will help to realize your ideas and improve business-process through the implementation of artificial intelligence. Get a consultation by filling out the form below.