With advancements in NLP as a subfield of artificial intelligence SEO and content strategies are becoming more sophisticated, consumer-centric and user-friendly. Of course, that's why they focused on understanding human language and this makes correctives into general perception of SEO and into work on increasing content ranking. Today we will consider the current trends in the development of this industry and what we need to be ready for in the near future.
NLP and Content Strategies
The main tasks of NLP are to read and understand human language. Previously, there was no such hype around this technology until Google's BERT algorithm update (rolled out in October 2019). It made NLP a determining factor for SEO rankings determining. This event forced all to change strategies for promoting content through search engines and to understand more deeply how it will work in the near future.
You can read what NLP is and detailed descriptions of how it works in our previous articles.
Consumer Understanding
allows us to gain deeper insights into consumer behavior and understand the user's perspective;
can uncover valuable information about consumer preferences, sentiment, and intent based on vast amounts of data from social media, customer reviews, and other online sources;
NLP helps brands tailor their content strategies for SEO taking into account the client's needs and expectations.
Contextual Relevance
the algorithm understands the meaning behind words and phrases, their relationships, and the intent behind them;
forces content creators to produce more meaningful content, which will exactly match the users' intent to find it;
your content will be displayed in the search in accordance with the logical connections with the search query, avoiding inconsistencies and inaccuracies;
encourages creators to work more responsibly for target audiences resulting in higher engagement and better search rankings.
Better User Interaction
conversational interfaces, such as chatbots and virtual assistants can be more human-like and understand the search query more accurately because of the NLP algorithm;
it is possible to understand the intent, extract relevant information, and provide personalized responses based on the context;
customers will be satisfied with interaction with a chatbot, which will give them the most relevant result right away and they will get what they are looking for.
SEO Shaping in General
NLP for SEO can bring a lot of changes, we should wait for them. Today, successful SEO implies the optimization of factors influencing interaction with users and requires more attention to the following:
Mobile-First Indexing
Numerous studies have revealed that approximately 65% of searches are conducted on mobile devices. This statistic underscores the growing importance of catering to mobile users.
Before 2020, Google priority crawled the desktop version of a website. However, as the use of mobile devices for searching online has increased, Google decided to prioritize crawling and indexing the mobile version of websites using the smartphone user agent. It means that now Google primarily uses the mobile version of a website's content for crawling, indexing, and ranking. Mobile-first indexing and page experience change the rules of SEO a lot and require a well-optimized version of the site for mobile devices. It now directly affects rankings and is critical to a website's success.
Nonetheless, if a mobile version isn't available, Google will index your website's desktop version. But you should consciously understand that Google's indexing system will continue to prioritize mobile websites. So in 2023, you will be better off having a fast-loading, responsive website that offers a seamless user experience on all devices because it is critical for SEO success.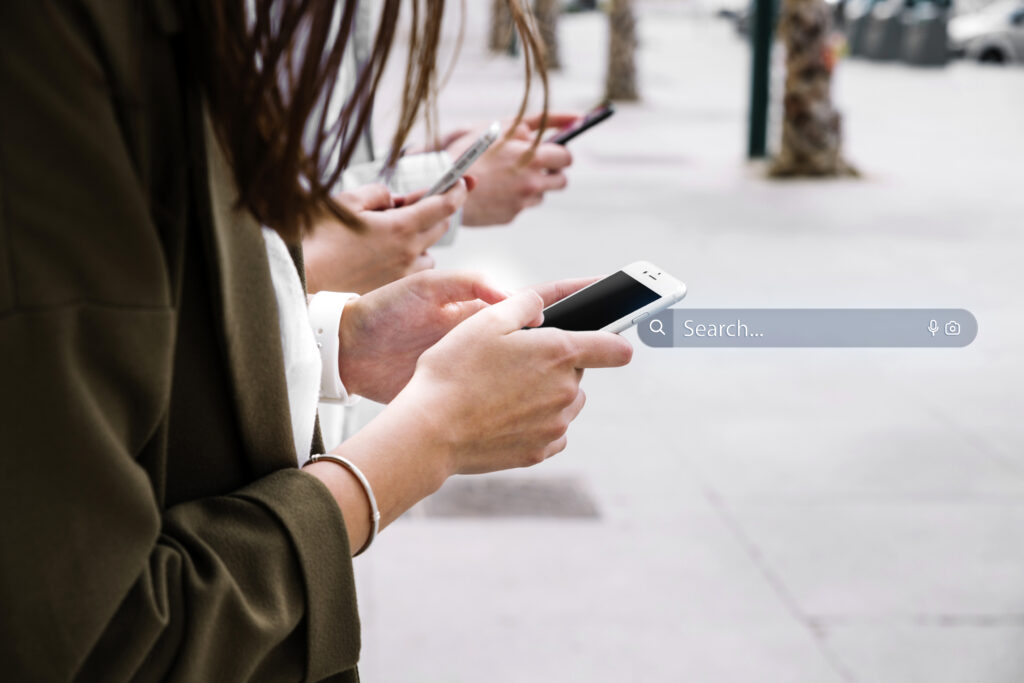 Visual Content
Adding visual content to your content makes your audience spend more time on your page. That's because visual elements offer a digestible and more engaging information presentation approach, so they provoke a more detailed study of information. According to the latest statistics, the average website visitor spends 88% more time on a page with a video.
Accordingly, users linger on your site and Google considers this content valuable and useful. As a result, the site will be ranked higher, because audience interest is a very important indicator. Thus, we conclude that now without visual content, your site has every chance to remain somewhere at the very bottom despite all other efforts.
E-E-A-T for Content Quality
In December 2022 Google introduced E-E-A-T. This is not the main point, but important to Google's ranking algorithm. High E-E-A-T can improve user trust and lead to more conversions on your site. What is this?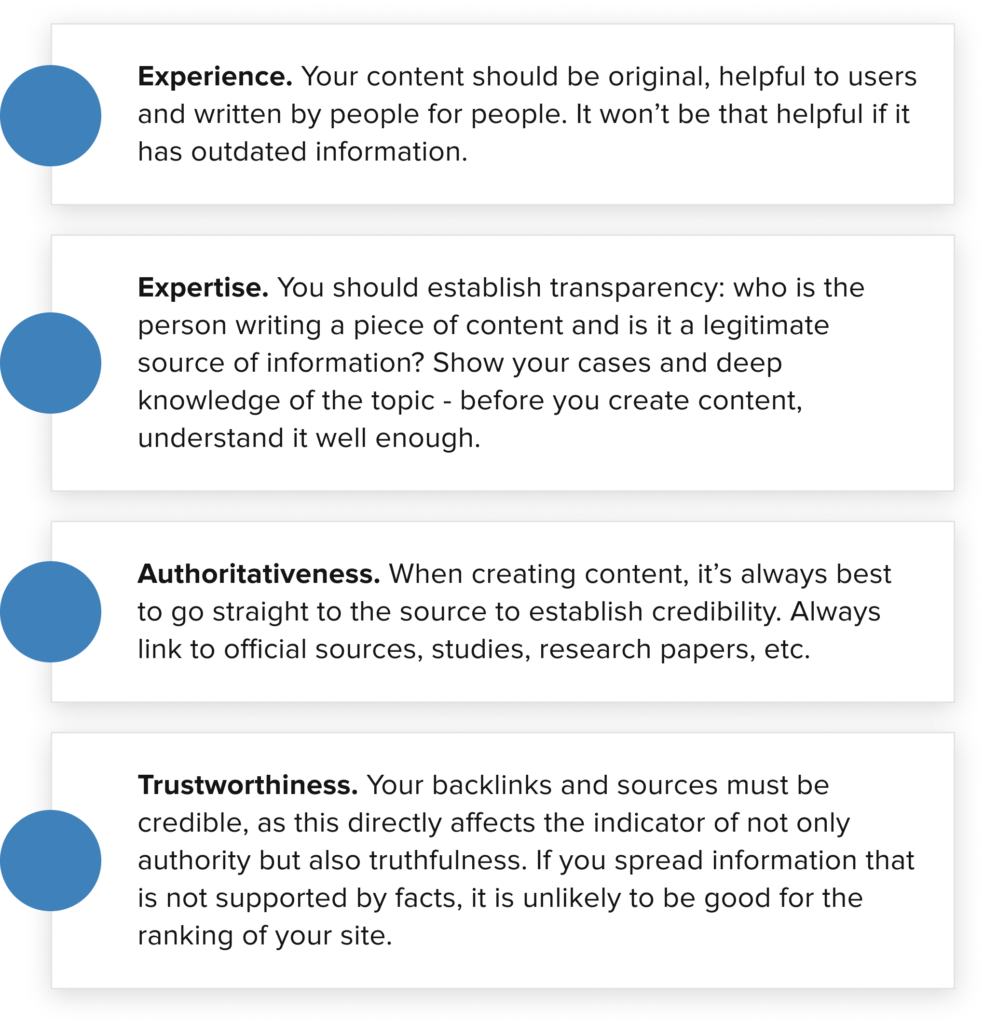 To improve your site's E-E-A-T score, focus on producing high-quality, well-researched content, and establish yourself as an authority in your industry. These are really important things to create quality content.
AI-powered SEO tools
Artificial Intelligence offers for the SEO landscape any powering advanced tools that can analyze and optimize your content. These tools will help you understand what you do well and what requires additional time and effort to make your SEO strategy better.
Surfer SEO
Surfer SEO helps you boost organic traffic. The most popular feature is of course the Content Editor, where you can create SEO content briefs and fully optimized articles. When you enter your target keyword, Surfer will tell you which NLP terms you should use, and how often – it will be better for your SEO. It will also give you a real-time Content Score. These results are created based on NLP to extract entities related to your target keyword (based on top-ranked articles in the search engine results pages). In this way, you can create the most comprehensive article possible that also aligns with searcher intent and helps Google understand the meaning and sentiment behind your content.
Scalenut
Scalenut is an AI SEO tool for creators. It helps you manage the content lifecycle from start to finish. You can discover topic clusters and create a content plan in one click. Scalenut also produces fully automated content briefs. It also has the Cruise Mode feature that allows you to generate an optimized first draft in just five minutes. Scalenut's also based on NLP models to suggest relevant key terms to include in your articles SEO so that they align closely with what Google wants to see. In addition to its optimization tools, Scalenut features an AI writing tool with 40+ AI templates.
NeuronWriter
NeuronWriter presents itself as a content optimization platform and AI writing tool in one. Writing templates include an outline generator and a paragraph writer. You can learn relevant keyword ideas for your next articles and plan your editorial calendar months in advance. One really neat feature that sets NeuronWriter apart from other AI SEO tools is its content repository, which lets you organize your content using tags and filters. Also, you can prioritize upcoming articles based on market trends, and manage article status with your team.
AI tools can automate tasks, manage your internal link strategy more efficiently. They can help with site-wide optimization rules like writing meta descriptions and improving page load speed. Some AI SEO tools can do full site audits, find issues, and automate fixes. As a result, you can create high-quality, comprehensive, SEO-optimized content that matches searcher intent, improving its likelihood of ranking highly in search engines.
Amazinum Case
About the Client
The company, which partnered with our Amazinum data science team, allows you to fully reveal the potential of search optimization, expand statistics and improve work processes in marketing.
Besides, marketers can evaluate the performance of keywords and optimize the useful ones, increase the effectiveness of their site, track the ranking of keywords, and evaluate the power of their content with the help of reporting and analysis. All this allows you to improve profitability, increase sales, and attract new customers.
Business Context
Our collaboration with the client started in 2020 when we became a part of the team to develop ML and AI solutions for SEO and content management software. Since then, our data science team has been engaged in developing AI and ML software solutions and improving operational performance, in particular
Data science consulting
Data engineering
Keyword research and clustering
Project health solution
Automated SEO Keyword Clustering
Obviously, our clients deal with keyword research regularly. Keyword clustering and keyword grouping let them set up the priorities, filter the relevant and irrelevant keywords, and analyze the most profitable ones.
The Amazinum Data Scientist together with Data Engineer uses two clustering algorithms to reach the optimal results:
Agglomerative clustering, which works based on the differences between the objects to be grouped, and
Kmeans clustering when the data set is divided into predefined K distinct, non-overlapping subgroups where each data set belongs to only one group.
As a result, the implementation of machine learning algorithms allows users to evaluate keywords, analyze them, and build the most profitable semantic kernel. The companies can use metrics to access quality models and compare multiple algorithms.
Title Generator
One of the key developments of our clients was the implementation of the idea of ​​creating automated writing of unique titles that would take into account the popularity of already existing models and create their success. That is why we used the Open AI GPT-3 model. GPT-3 is a powerful autoregressive language generation model that uses deep learning to generate human-like text. In this way, the program analyzed the titles of the first three pages in the query and created a title based on them that used the same signs of popularity. The use of this type of service has significantly reduced the time spent by marketers on analyzing trends or competitors, creating a cool headline. Instead, it allowed us to focus our resources on content.
Categorize goods according to certain ranks and can track them.
One of our first tasks was to use Machine Learning algorithms to develop keyword categorization based on semantic similarity. For this, we used NLTK – a huge platform that provides a set of text-processing libraries for classification, tokenization, base formation, tagging, syntactic analysis, semantic reasoning, etc. With its help, we could trace the connections between things. The received data had to be converted into vector representations of discrete changes – that is, embedded. Thanks to this, we received similar products – according to similar vectors. Therefore, each keyword received its classification based on semantic features.
Develop a pipeline that would collect data and select the most plausible ones. The data provided to us was validated, after which it was agreed upon the most likely. We came up with certain algorithms that included historical data. Data Amazinum engineer wrote a pipeline that collected this data, cleaned it, and recorded the correct ones.
Outcome
With the help of Machine Learning, Artificial Intelligence, and Data Engineering, the service of our customers could implement new functions and solutions so that the end user received high-quality and accurate information.
Thanks to the improvements and tools implemented by the Amazinum team, the user got the opportunity to:
Investigate the relevance of the keywords;
Create a website that will be noticeable and popular;
Get a report on the performance of your influence on global search engines;
Get information about the digital visibility of the use of keywords by any ranks you need.
To better understand user behavior in search engines and social networks to perform better yourself.
This automation allows Marketers and SEOs to focus more on content without spending time on analysis or research. Artificial Intelligence will cope with boring tasks much faster and more accurately. This allows users to save resources, use accurate data, and be more creative. Replacing manual work with automated work is the cure for your marketing.
Technologies: python, flask, sklearn, pandas, tensorflow, BeautifulSoup
You can also read our portfolio here.
Conclusion
NLP is transforming the landscape of SEO and requires quality changes. By staying informed and adapting your strategy accordingly, you can ensure your website ranks well in search results. Keep in mind determining factors influencing ranking and consider the characteristics of user behavior now to achieve the best results and to stay ahead in the ever-evolving world of SEO.
Contact us to achieve the best ranking results and implement technology in your SEO strategy.