Introduction
Artificial Intelligence has already covered many areas. Considering all the recent results, it is safe to say that Artificial Intelligence is changing the direction of many industries in a very positive way. It helps to take much wider steps in their development. But there is another important area that is waiting for a revolution and qualitative changes from the introduction of AI – it is the improvement of the lives of people with physical disabilities.
Despite the fact that this field has always been a little more difficult than others in the context of understanding the specifics of each individual, Artificial Intelligence provides a sure guarantee of new opportunities for these people by providing solutions that can help them to perform everyday tasks more easily and independently.
The Start of New Life: Main AI Developments for Disabled People
According to the World Health Organisation (WHO), about 15% of the world population (over one billion people) have some type of disability. Technology has been opening doors for individuals with disabilities for a long back. For normal people, AI is just a qualitative improvement of existing things, but for people with disabilities, it is the start of a new life.
Currently, there are a number of assistive technologies (including also AI) and services for disabled people, but they are not widely available or underdeveloped. Therefore, now it is worth focusing on their improvement for comfortable use every day. Next, we will consider the main developments, their advantages, and what actually AI can offer.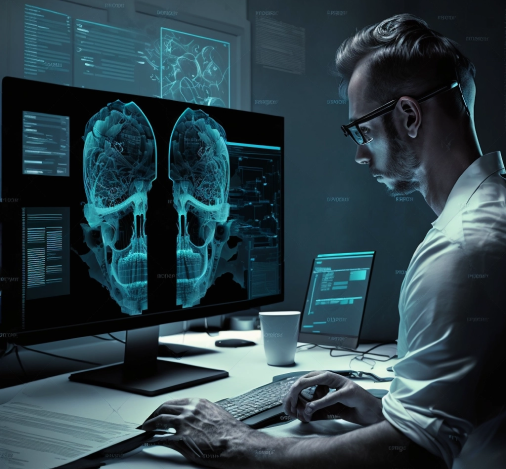 Analysis of Medical Data
First, the problem of processing medical data is no longer so acute, since the use of Computer Vision technology has become widespread. Now we can process medical image data to detect and identify the type of pathology on display. Using large data sets, the accuracy of medical conclusions increases every time. In addition, the possible options for influencing the progression of the disease are increasing. This allows you to select the most appropriate methods of combating negative consequences. This makes it possible to prescribe an optimal treatment program. It also allows you to control the treatment process not manually, but automatically, paying attention only to what falls out of the plan. In this case, doctors save precious time and make better-informed decisions therewith preventing the mistakes of the human factor.
Medical infant motion analysis is already an important part of diagnosing possible deviations, and neurological and musculoskeletal diseases. This Computer Vision technique is also suitable for adults, which was also successful and assisted doctors in diagnosing. An automated motion analysis system can capture infant body movements and spot anomalies much more efficiently. By monitoring and assessing an infant's spontaneous moves, doctors can predict neurodevelopmental disorders at a very young age and take appropriate measures.
Revolution of Exoskeletons
Exoskeleton suits are wearable devices that work with the user to enhance their strength and performance to complete tasks or to rehabilitate their body. This is a lightweight device that aims to help patients sit, stand, walk, navigate stairs, and even run if needed. It propels a user forward as they lean into their next step, mimicking the natural movement of their steps. Machine Learning technology allows the patient to make it easier to improve each subsequent step. At the same time, it is taken into account personal characteristics of weight, pressure, and height of leg lift. It use patients who suffer from:
spinal cord injuries,
cerebrovascular diseases,
traumatic brain injuries,
neuromuscular diseases or injuries,
multiple sclerosis,
stroke victims.
Exoskeletons help people who have mobility disorders stand upright and gain mobility. It helps to regain their natural walking gait by re-teaching the brain and muscles how to walk. Its main task is for home use and when users are out and about in the community. ABI Research, a leader in technology market intelligence, predicts the robotic exoskeleton sector to reach $1.8 billion in 2025, up from $68 million in 2014, for a CAGR of 39.6%. Lower body exoskeletons, employed as rehabilitation tools or quality-of-life enablers, currently lead the sector.
Assistive Technologies
AI-powered assistive technologies is an indispensable support that helps disabled people not to feel so. Accessibility opens up new ways of perceiving the world and enables social activity for those for whom this was previously a challenge. In fact, there are many programs that facilitate life for disabled people, below are the most striking examples.
Speech Recognition Technology
For people with physical disabilities who are unable to use their hands or arms, it can be hard to use devices. This problem can be solved thanks to AI-powered speech recognition technology, which allows giving voice commands. IFTTT is an app that connects other apps so that the user with poor dexterity can use all his smartphone's functionalities without struggling. It creates combinations with the apps to automatically perform tasks such as reading an email aloud and sending a tweet. Similarly, speech recognition allows setting reminders or creating shopping lists, changing TV channels or even answering a phone call can be made with the help of voice assistants.
Automatic speech recognition or voice recognition helps computers transcribe human words into a machine-readable language that can be processed by computers. It gives more capabilities to improve efficiency and productivity for disabled people. Deaf or hard of hearing people can use Ava – an instant transcription app that uses AI to instantly transcribe the conversation of a group of people. Its algorithm adds punctuation, the name of the person who is talking, and the necessary vocabulary from the user's dictionary. An easy way for people with a hearing impairment to be included and to follow a conversation with several people without lip-reading.
Even people with speech impediments can benefit from AI technology with the app Voiceitt. Thanks to Machine Learning, Voiceitt can easily understand people with brain injuries or Parkinson's and whose speech may first seem difficult to apprehend. This app normalizes their speech to create an output of audio or text so that people with speech impediments can still communicate with others and be understood.
Text-To-Voice
Blind or visually impaired people need programs that can voice what is happening on the phone or laptop screen and allow you to perform certain actions using voice commands. For example, VoiceOver is a screen reader directly integrated into iPhones. Although its main use is to enunciate any email or textual message, VoiceOver also uses AI to describe app icons, the battery level, and even in part images.
Computer Vision technology
Computer Vision technology can be used to assist people with visual impairments by providing audio descriptions of their surroundings, identifying objects, and helping them navigate their environment. In the same way, Augmented Reality technology provides people with physical disabilities with real-time assistance and information about their environment, making it easier for them to perform tasks and navigate unfamiliar places.
Move Without Borders: Machine Learning for People with Mobility Impairments
One of the most used GPS apps around the world is Google Maps. Visually impaired people or wheelchair users can prepare for their trip in advance and visualize their route. The app also recommends the best means of transportation to use according to their profile. With the option "wheelchair accessible" wheelchair users can know where ramps and elevators are located in the city. Plus the feature "accessible places" is useful for them to have more information about the layout of many premises: entrance, parking spots, restrooms, and seating arrangements. Also, there is an Evelity app that works like a GPS with audio instructions. It gives step-by-step information for visually impaired users.
There are also AI And ML applications that help disabled people better navigate in transport and on the streets. Moovit provides real-time traffic information and turns out to be helpful for people with a visual impairment when voice announcements aren't activated on the bus for example. Soundscape is an app that describes for blind people their surroundings with audio 3D technology. They can easily be aware of the points of interest near them and the intersections.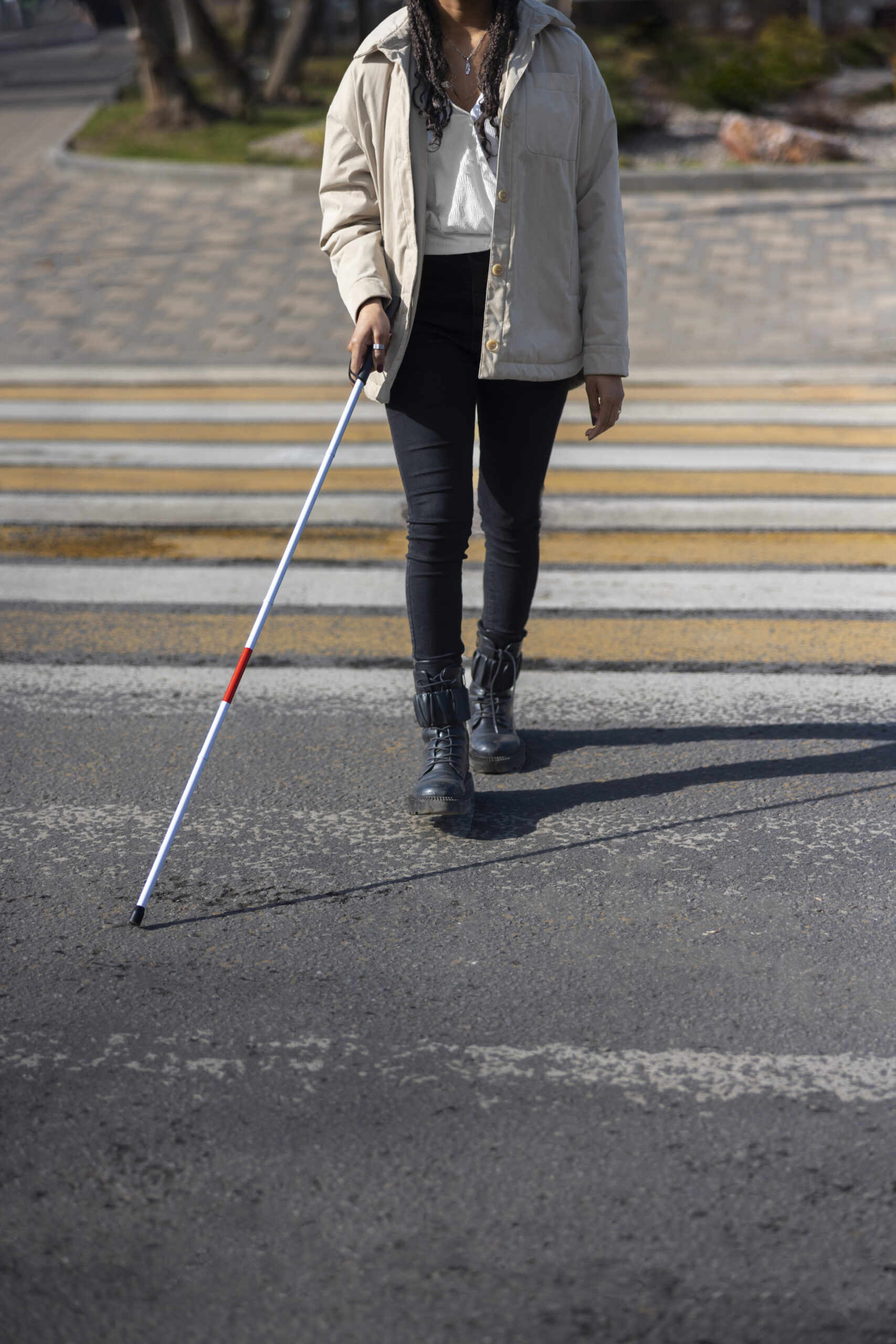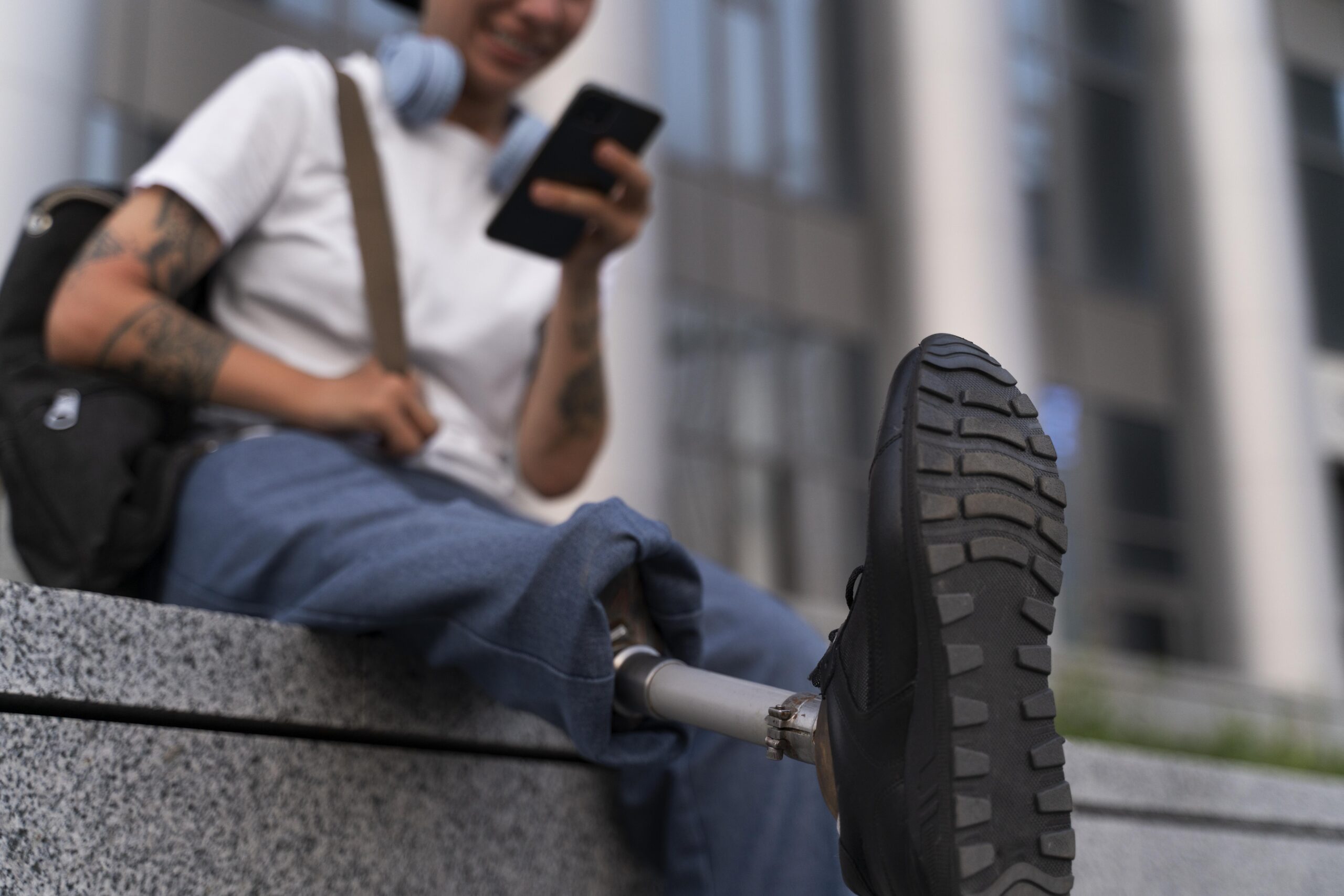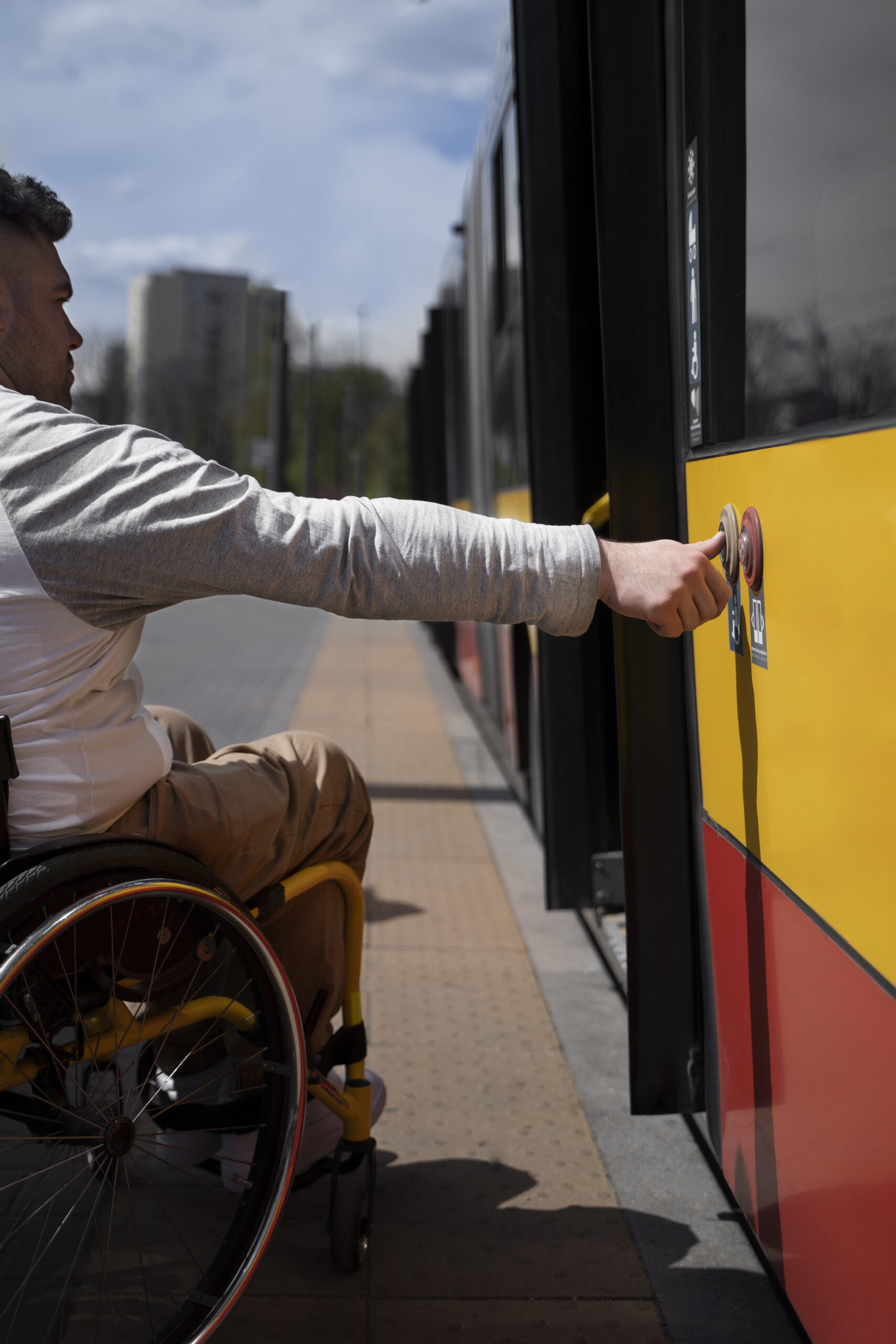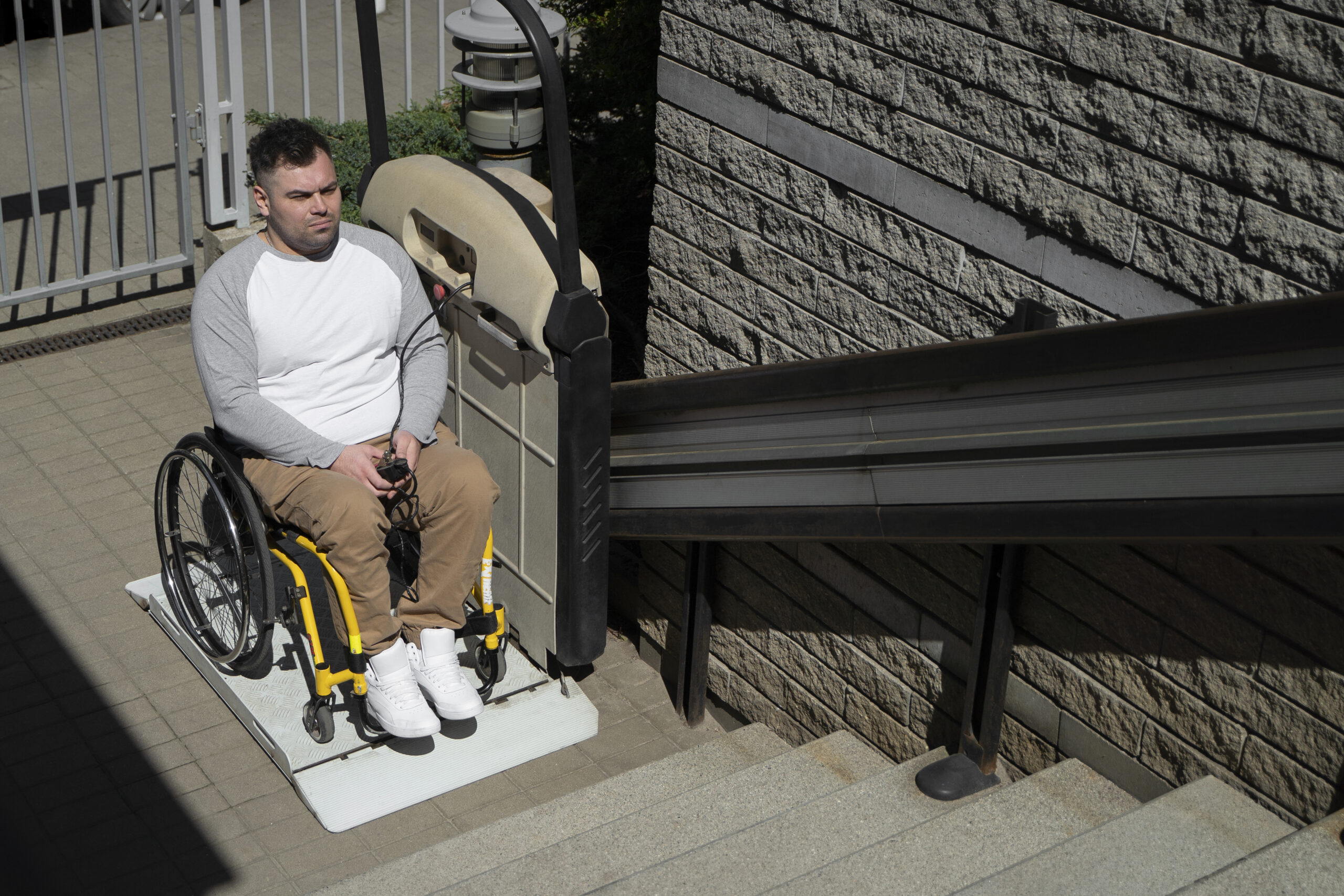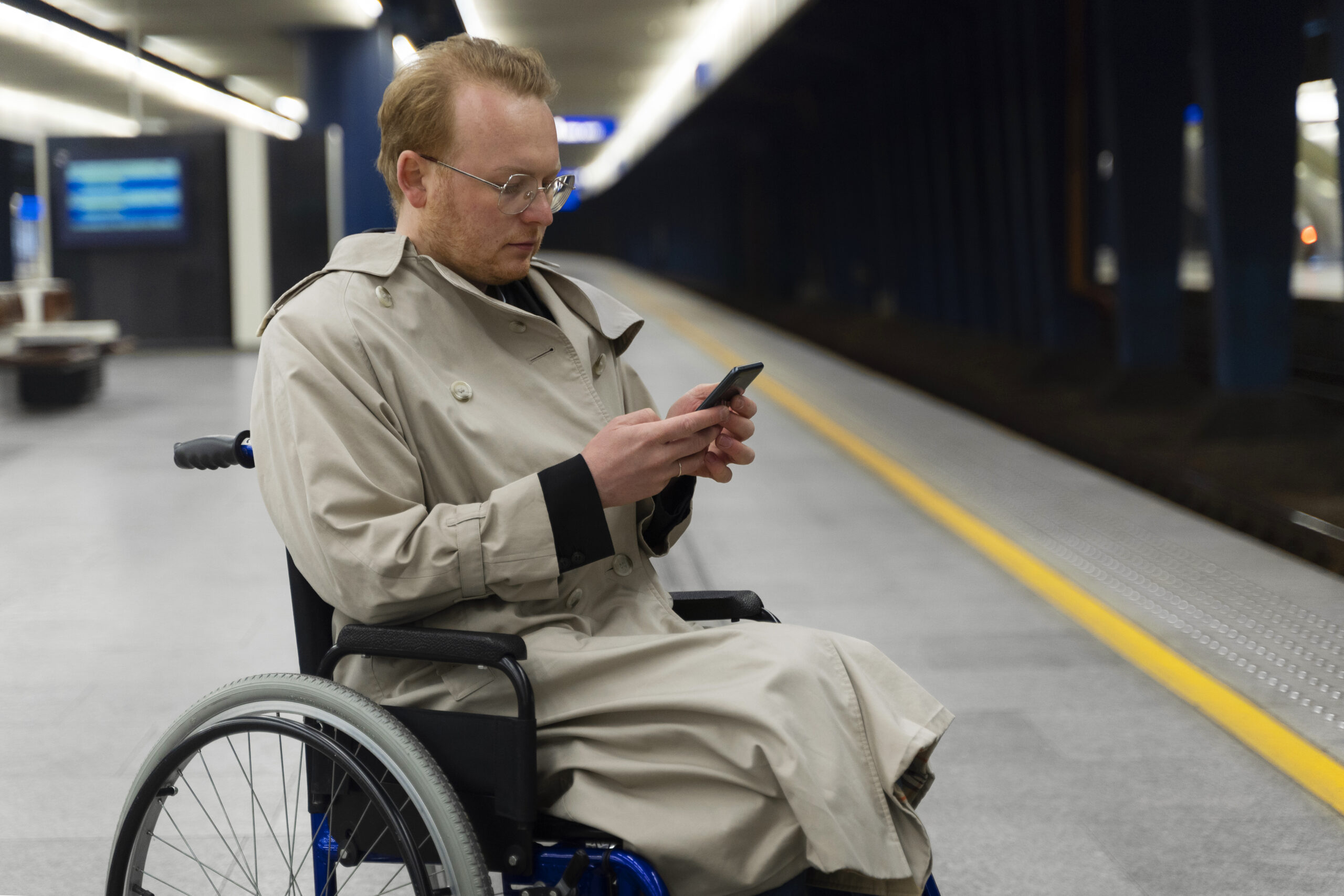 New Step: More Options
One of the most successful developments, which is already in use and is predicted to become more widespread, is a prosthetic hand from BrainRobotics. Unlike others that came before it, this one employs an algorithm that allows the hand and the user to learn from each other. In accordance, their experience becomes more lifelike with each use. A traditional prosthetic arm will be able to locate the object but fail to place a firm grip on it. An ML-enabled prosthetic limb, on the other hand, can be trained to observe muscle signals with regard to various motions. Artificial Intelligence allows for generating more lifelike movements that do not rely on pre-programmed movement patterns. It allows wearers to make intuitive movements using the muscle signals from their residual limbs.
Also, Neuropace devices for epilepsy-fighting show excellent results. A small responsive neurostimulator detects and directly responds to abnormal brain activity to prevent seizures before they occur. It sits on a plate fastened to the skull. Since there are no pain fibers on the surface of the brain, patients don't sense any activity or discomfort. The device is helping her doctors capture information about seizures. This information is useful for adjusting the treatment and improving the general condition of the patient until recovery.
The Potential of AI and ML: Smart Prosthesis
What's next? Artificial Intelligence and Machine Learning in healthcare contribute that prosthetic limbs and exoskeletons are becoming smart. Using implantable smart devices in the mix with AI and ML technologies allow us to consider the possibilities of disabled people controlling their body close to the control of a normal person. In the groundwork for this laying the "intent to move "—how the brain directs the body to take an action. If a patient wants to pick up a spoon (for example), a device implanted on the surface of the brain could detect that intention in the brain's electrical signals—and then direct an exoskeletal robot surrounding his arm to move the limb and grab the utensil.
Now Neuralink is rapidly developing in this direction. They are expected to eventually help disabled patients move and communicate again, as well as restore sight. Their device will be able to restore neural activity inside the body, allowing those with spinal cord injuries to move limbs. The plans are very ambitious, research is ongoing, so you can be sure that in the near future, people with disabilities will no longer feel inferior and will be able to live a comfortable life.
Advantages Obtained with AI And ML for Disabled People
Here are some ways with using AI that are already working to improve the lives of people with physical disabilities:
Independent life – AI technology concerns any field and can thus enhance accessibility. It is important to help people with disabilities cope with everyday tasks at home. Using smart assistants with help such as voice or written commands is now possible to control everything: from turning on the lights to setting up an alarm or listening to music in the living room. Having a connected smart home can sometimes be life-saving: if a person with disabilities falls, a system previously set up can call up emergency services. People with disabilities can thus live alone knowing that they're safe if something happens. These technologies enable them to gain more autonomy and feel comfortable in their own homes.
Daily mobility – For people with disabilities, getting around in their everyday lives can be extremely difficult. AI can make a major difference in their ability to get around and take part in the activities of daily living. Thanks to AI, disabled people can easily navigate inside complex and busy places such as subway networks, colleges and universities, shopping malls, and stadiums using apps.
Social activity – It is very difficult for people with disabilities to integrate into society, given the factors of physical limitations. Feeling different, they cannot actively participate in social life, because there is a psychological barrier for them. The latest technologies blur the line between disabled people and society. They can feel more comfortable, have an active social position, participate in social life and fully enjoy their lives.
Artificial Intelligence has been opening up new and simpler ways to manage their activities. People with disabilities can drastically improve their everyday lives via smartphones are powerful tools. Users with visual impairment can use voice assistants that will guide them and give hints. Creating smart prosthetics can enable people with disabilities to function near-normally. Amazinum team will help your business realize the idea of implementing the latest AI And ML technologies to make life easier for disabled people.