Transform your
business with Amazinum
Implement Data Science technologies in your business now. Write to us and we will provide you with a specialist that will improve your business
Let the dataset change your mindset
We develop expertise from Machine Learning to Python development. Many years of experience and dozens of satisfied customers are our standards.
Data collection, creation of pipelines and data architects, ETL and their literacy – all this is assigned to Data Engineering. Amazinum specialists create a data product qualitatively and professionally.
Our company provides professional Python developers to work with business solutions.


Let our Data speak for itself
We deliver Artificial Intelligence (AI), Machine Learning, and Big Data Solutions to various businesses – from a startup to enterprises. We develop Data Science Solutions for E-commerce and Retail, Marketing and Advertising, Customer Services, etc.
E-commerce monitoring & intelligence platform drives 2x growth helping Amazon businesses on various markets
Well-known e-commerce platform has applied to Amazinum data science company to implement machine learning algorithms in order to
Improve product ratings and increase sales;
Compare the amount of products with competitors;
Improve sales strategy;
Analyze traffic and easily predict stock trends;
Monitor the price dynamics of competitors and retailers.
Enterprise SEO & content management platform: from data to action. How ML and AI leverage KPI in marketing
Check out how enterprise marketing company has teamed up with Amazinum Data Scientists to
Implement machine learning for in-depth keyword research;
Provide actionable semantic insights with the help of ML model;
Assist with Data Science consulting;
Improve customer support services.
Through cooperation with our partners, we are able to provide quality services and expand the scope of our expertise.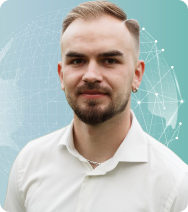 Hello there!
Amazinum Team assists you through all data science development processes:
from data collection to valuable insights generation. Get in touch with our CEO and Data Scientist to figure out the next move together
Vitaliy Fedorovych
CEO, Data Scientist at Amazinum
vfedorovych@amazinum.com